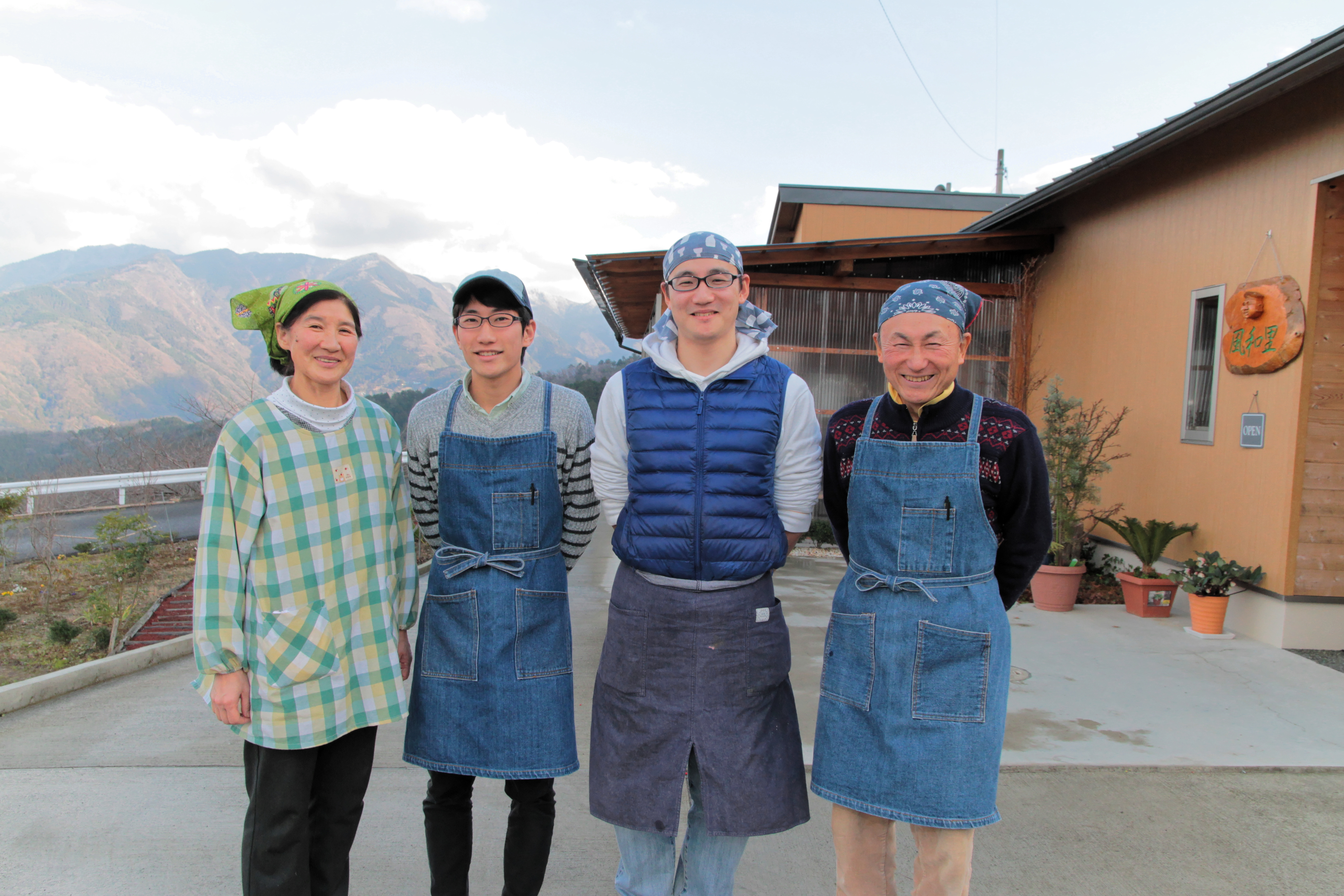 Moved from Tokyo
Managing a farmer's restaurant with pleasure
Mr.Ootake Hajime
(Anabuki Town in Mima City/Farmer's restaurant Fuwari)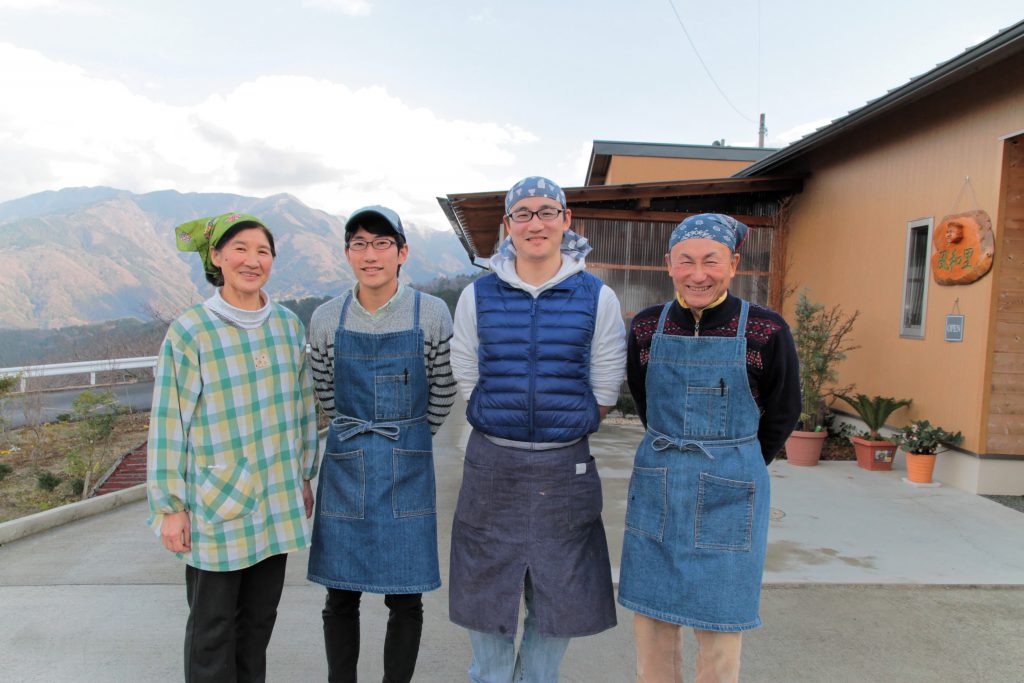 Mr. Hajime Ootake (rightmost in the photo) said, "I would like to recommend living in the countryside" with a smile. In March 2016, upon retirement, he and his family moved from Tokyo to Fuchimyou village where his wife's hometown is located. He now runs a farmer's restaurant called "Fuwari" with his wife and sons.
Fuchimyou village is located at an altitude of around 250 to 550 meters above sea level in Anabuki town, and is close to the mountain top where steep slope land agriculture is carried out. Mr.Yasuo Koizumi is a farmer for many years and is wondering about the future of his community due to its aging population and declining birth rate. At that time, he heard his relative of Mr. Ootake and his family said, "we want to move to the area and start a business", and he discussed the farmer's restaurant idea with them. The warehouse was renovated and opened in July 2017.
The dishes served at the restaurant are full of seasonal vegetables grown on the local steep slope lands. The cooking is also handled by Ootake's family and local people. The menu has been carefully selected to offer a wide variety of dishes, from local specialties to healthy and stylish a la carte dishes, local specialty teas, and desserts.
Mr. Ootake said, "The fresh air here is delicious, and time flow is very slow. I am impressed by how good true country life is because the local vegetables are so delicious and I live off the spring water from the Tsurugi Mountains. However, it was cold and I had to shovel snow in the winter, and I was in trouble when the water was frozen. But more than the inconvenience, the people here are extremely warm. If you need anything, they will talk to you and help you a lot."
Mr. Ootake is eager to work with the villagers to increase the number of people who move to Nishi Awa as a whole.
Mr. Ootake said, "I want you to come here first and experience the quality of the place. Young people can also start their own businesses because of the internet system."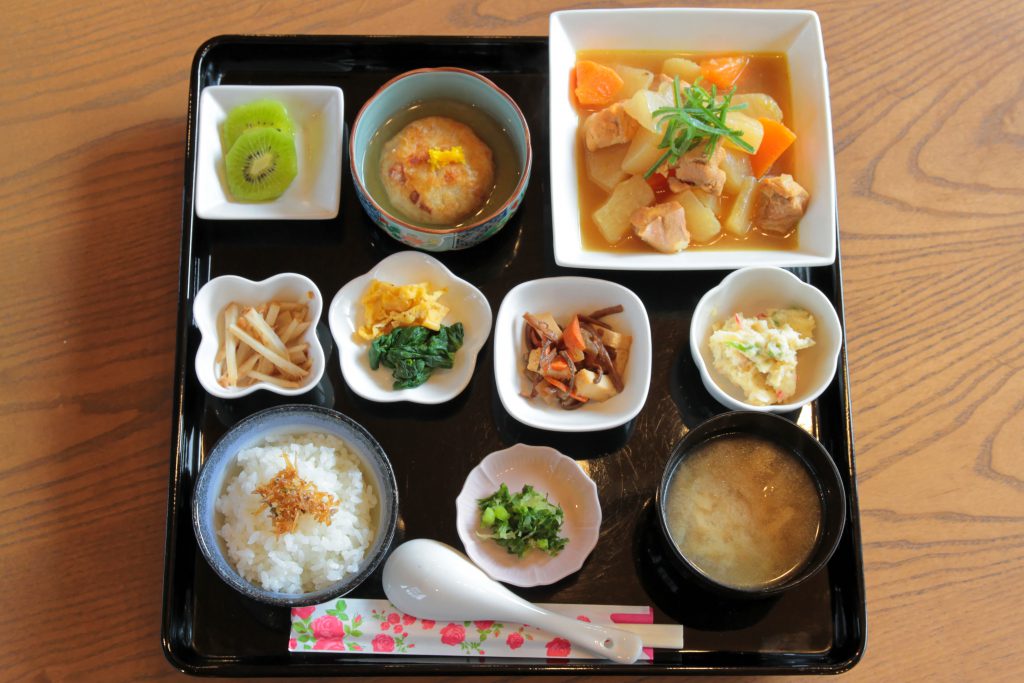 Farmer's restaurant "Fuwari"
Address: 307, Kuchiyama-aza-fuchimyou, Anabuki-cho, Mima city, Tokushima Prefecture
TEL: 0883-56-0725
Closed: Every Tuesday